There are three things you can do, to get more enquiries on Tagvenue.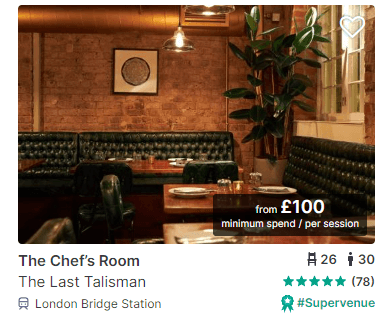 First of all, make sure your venue profile is complete with up to date information! Remember, that picture above is an example of what the client sees first in the search results. Keep in mind that your venue is competing with hundreds of different spaces. How to make sure you're venue will be remembered?



Pricing
Remember to keep the prices relevant!The client sees the starting point first. It may be attractive, but remember to specify in the pricing description how exactly the prices change depending on various factors (ex. time, day of the week, event type). This will lead to receiving enquiries that are way more likely to convert.

Photos
The clients' expectations are primarily created by the images. Choosing a captivating default photo is likely to attract more customers to your profile. This alone already increases chances for a booking, but there's, even more, you can do:



Feature photos from eventsthat took place at your venue. You're selling an experience, after all!

Put an emphasis on your selling points– do you have a wonderful summer garden, state-of-the-art drinks menu or something else that makes your venue unique? Make sure to highlight these features properly. Maybe that's exactly what the client is looking for!



Secondly, try to become a #Supervenue. #Supervenue program is our program based on the Venue's performance and User's feedback. It highlights the Venues that are most dedicated to providing outstanding hospitality, customer service and event experience. Check out this article in order to see how you can become a Supervenue.


Last but not least, try to simply keep the response time short. Quickly reply to Enquiries you receive and avoid auto-expiries.