There are three ways of boosting your stats.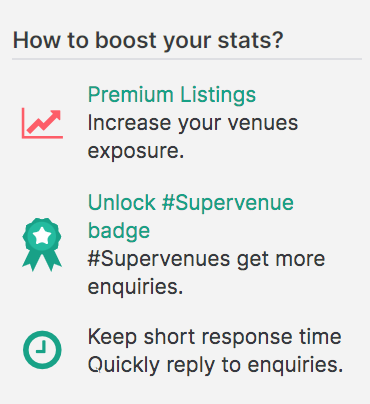 First of all, you can boost your visibility by joining Partnership programmes, which provide tailored services that will help showcase your event space to the widest possible audience of ready-to-book Users. Tagvenue will advertise your business by increasing its visibility throughout the platform to generate more leads. Your personal Partner Account Manager will assist you in optimising your profile and will work hand in hand with you to boost your conversions by analysing your offers and performance. You will also be able to benefit from additional features offered exclusively to the Partners.
Secondly, try to become a #Supervenue. #Supervenue program is our program based on the Venue's performance and User's feedback. It highlights the Venues that are most dedicated to providing outstanding hospitality, customer service and event experience. Check out this article in order to see how you can become a Supervenue.
Last but not least, try to simply keep the response time short. Quickly reply to Enquiries you receive and avoid auto-expiries.